Article from the Danish Newspapers Fyens.dk – Jv.dk
Soren Guldberg Kjaer spends his time on spreading the knowledge of the handball game, but in its more gentle and amiable form.
Isn't handball something with loads of resin on your fingers and hard physical encounters?
That's correct. At least in most cases; but there are exceptions.
Søren's project is called "Street Handball" and recently it was introduced in connection with the final round of the Women's World Cup in Japanese Kumamoto.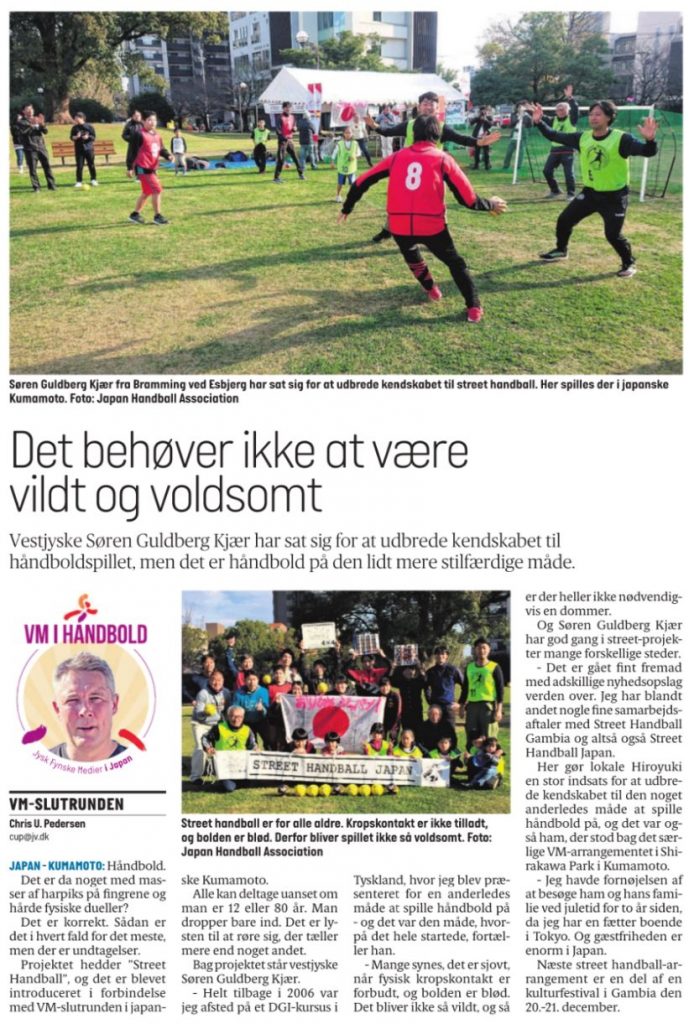 In this game, everyone can participate regardless of whether they are 3 or 80 years old. You can just drop in from the street. Above anything else, it is the desire to move that counts.
The idea for the project was conceived by Soren Guldberg Kjaer hailing from the Western part of Denmark.
– Back in 2006, I joined a seminar, "Street Sport for Europe", organized by the Danish Gymnastics Association and held in Germany, where I was allowed to present street handball for the first time, and with that, street handball was invented. See article/video here>>
– Many people find it more fun when physical body contact is prohibited, and the ball is soft. Then game is not going to be too aggressive, and normally you are even player and referee at the same time.
And Soren has had a good start to his street projects in many different places.
– It has progressed well with several news reports around the world. I have some nice cooperation agreements with Street Handball Gambia and also Street Handball Japan.
In Japan, local Hiroyuki makes a big effort to spread the knowledge of the somewhat different way of playing handball. Hiroyuki was organizing the special World Cup event at Shirakawa Park in Kumamoto.
– I had the pleasure of visiting him and his family at Christmas time two years ago as I have a cousin living in Tokyo. And hospitality is huge in Japan.
The next street handball event will be part of a Gambia Cultural Festival on December 20 and 21.
Captions for the cover photo: IT IS THE AIM FOR SOREN GULDBERG FROM BRAMMING NEAR ESBJERG TO SPREAD THE KNOWLEDGE OF STREET HANDBALL. HERE PLAYERS AT THE GAME IN KUMAMOTO, JAPANESE. PHOTO: JAPAN STREET HANDBALL FEDERATION
—
Newspaper article from the Danish Jysk Fynsk Medier during The World Women's Handball Championship in Kumamoto, Japan.
Writen by Chris U. Pedersen from Jysk Fynske Medier
See article here
Newspapers on Fyn – Fyens Stiftstidende>>
Newspaper South/West Jutland – Jydske Vestkysten>>
News 389 (84)